Since entering the NBA, Trae Young has made it his mission to give back to his community, both where he grew up in Oklahoma and where he resides now in Atlanta. Those efforts are being recognized in a big way by the Atlanta Hawks organization.
The Hawks announced at the end of March that Trae has been awarded the organization's Jason Collier Memorial Trophy, which is awarded annually to the Hawks player who best exemplifies the community ambassador qualities displayed by Collier, who was a leader for the Hawks on and off the court before his untimely death in 2005 at just 28 years old.
"On behalf of my family and daughter, Ella, I am beyond honored and thrilled that Trae Young was this year's recipient of the Jason J. Collier Memorial Trophy," said Katie Collier. "This award is presented every year to the player who best exemplifies the characteristics of my husband off the court as a community ambassador. We appreciate Young's commitment to serving the Atlanta community through the Trae Young Family Foundation. My family continues to be grateful for the Atlanta Hawks organization in their support in keeping Jason's legacy alive through the presentation of this award every year."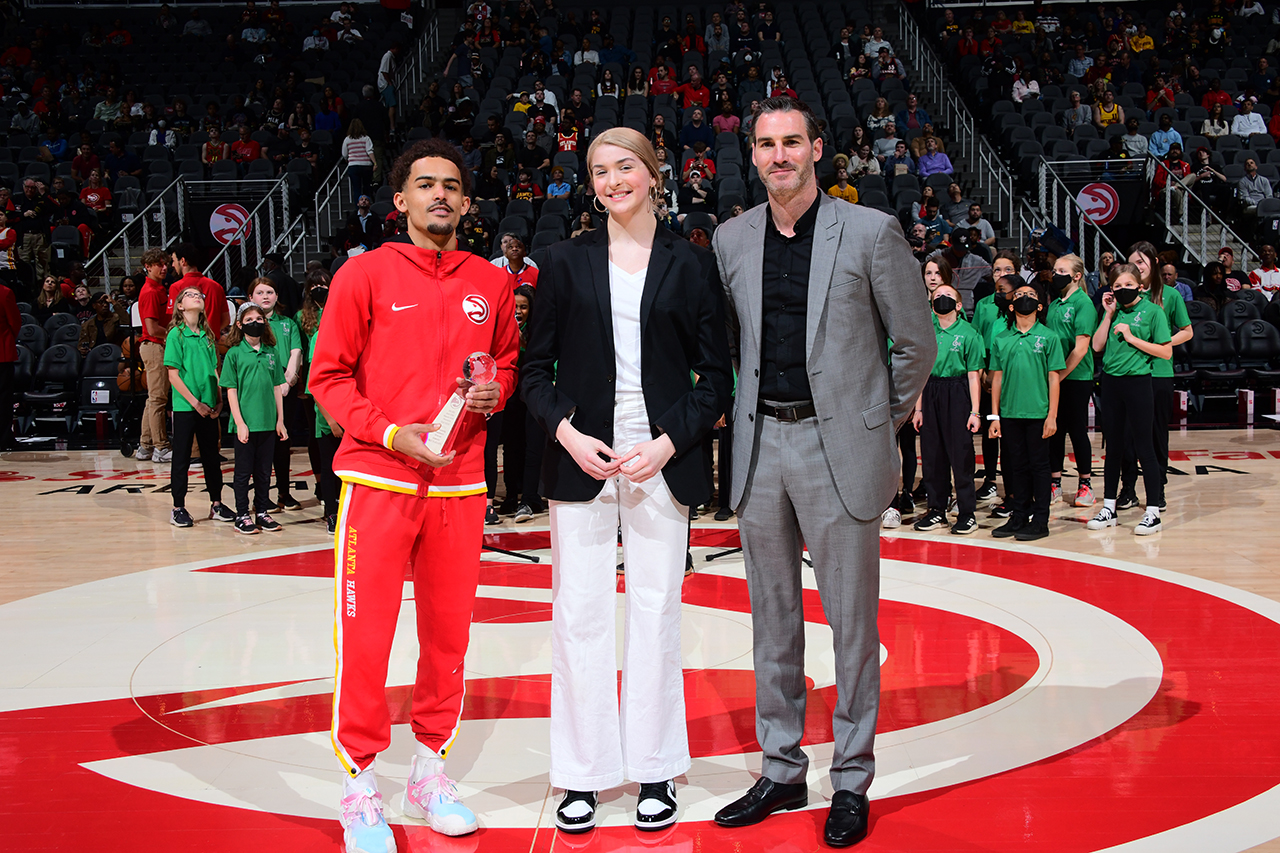 Trae's work as a mental health ambassador within the Hawks organization in particular has stood out this season. He has participated in important conversations and led the way to raise awareness and create a dialogue locally about mental health, especially in young people, through multiple initiatives and events this season. He continues to take part in the team's work with the Silence the Shame organization to educate and inform the community.
Trae has also worked with local organizations this season to provide important holiday benefits to the less fortunate through a Thanksgiving meal donation in November and a coat drive in December. All while continuing his work locally in his native Oklahoma to give back to his home region, most recently in the continued construction of the Young Family Athletic Center.
"It's an honor to receive the 2022 Jason Collier Award," Trae said. "I'm grateful to be amongst a group of diligent people who continue to help meet the necessary needs of the local community. I strive to positively impact the mental health of children and adults from all walks of life every single day."